If the weather was absolutely phenomenally perfect, I could probably go trail running completely naked but with the exception of my feet on which I would need a pair of trail running shoes. That's how important trail running shoes are: you could still run if you skip everything else, but it would terribly hurt your feet without a good pair of trail running shoes. I got a pair of Salomon's Speedcross GTX for women this summer and have used them to go bikepacking, hiking, traveling around, and of course, countless days of trail running, particularly on soggy days. After four months with these bad boys, I'm ready to give a full review of the women's Salomon Speedcross GTX.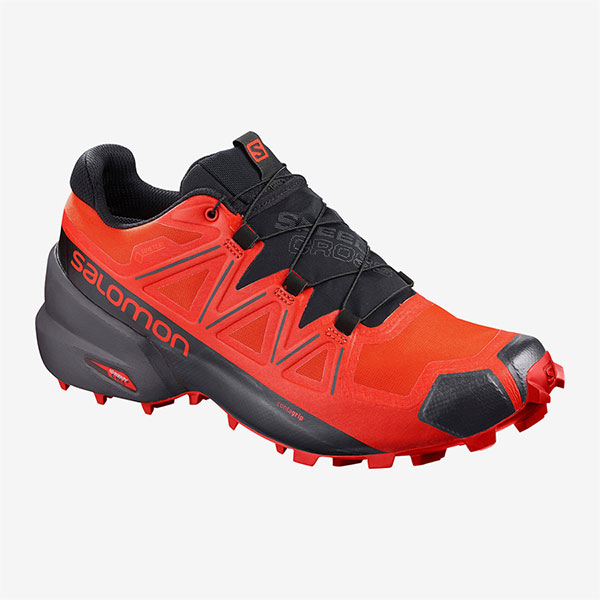 What I Like
There was definitely that out-of-the-box comfort the minute I tried the shoe on. I had tried on 9 other pairs of waterproof trail running shoes and all of them either bothered one of my toes or felt too stiff. The Speedcross felt just right, nice and cushy, and it really did feel like the shoe wrapped perfectly around my foot. Each step was cushioned and comfortable, nothing cut into the feet, nothing chafed, the shoe felt flexible and moved with my feet when I walked around the store. The guy had me walk and jog up and down the stairs to see if the shoes would jam my toes but they didn't at all. I walked out of the store with this pair on my feet and kept them on for the next two weeks (except to sleep) for days of strenuous backpacking and biking. There was absolutely zero break-in period.
I've gone trail running in them on rainy days and on days right after days of downpours where I could splash in the puddles on purpose. The Speedcross have kept my feet completely dry and I never felt any over-heating. So waterproofness and breathability are excellent. The fit of the shoe continues to feel perfect while my feet feel protected from rocks. I sprinted up a steep but short incline made of big rocks and lots of mud, I felt like a little mountain goat. The traction is especially grippy on muddy surfaces, something that I can't say the same for the Brooks Caldera.
It's not a surprise to see so many people raving about their pair of Speedcross. They are really comfortable the minute you put them on. But…
What I'm not so crazy about
Okay, for you Speedcross diehard fans, I'm also a fan but there are just a couple of things that I'm not such a fan of. For one, the Speedcross doesn't have a rock plate at the bottom of the shoe. My local trails are fairly rocky, similar to an old dried out streambed, and with these trail running shoes, there's a slight ouch factor when I run downhill on these kinds of trails. However, I don't have this problem with the Brooks Caldera, which also doesn't have a rock plate underneath but seems to have more cushioning. In addition to the Salomon Speedcross not having a rock plate, there's something amiss with the outsoles. The traction is great, but perhaps it's the lugs or the stiffer soles that don't give me the response I need when running downhill on a rocky trail, especially one covered in leaves. It's like my feet aren't able to react to any rocky terrain underneath them causing me to run more slowly and cautiously down a trail I am already very familiar with. Then, this extra caution when running over rocks increases the fatigue and I feel spent sooner than when I run with the Calderas. First I thought I was having one of those days, but it's consistently been the case.
My take on the Salomon Speedcross GTX? They're great for dirt and muddy trails and perfect for hiking and traveling. I just don't like them for trail running on predominantly rocky trails.
Features and Tech Specs
GORE-TEX® construction reduces bulk and improves comfort while maintaining complete weather protection
Quicklace™ system ensures a secure and customized fit—just pull, lock the toggle and go; pockets on the tongues store laces out of the way
SensiFit™ cradles your feet from the midsoles to the laces, providing a secure, snug and virtually customized fit
Built for maximum grip on loose, soft and uneven surfaces, Contagrip® TA soles have an aggressive lug design that digs into mud, wet ground and soft snow
1.

Salomon Speedcross GTX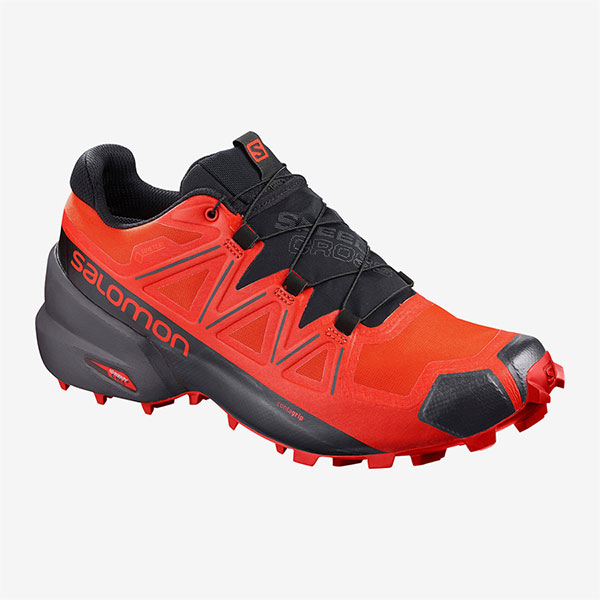 Pros
Shoes are nice and cushy with zero break-in time
Total out-of-the-box comfort
Feet stay completely dry without over-heating
Cons
No rock plate
Stiffer soles that don't give me the response I need when running