Traveling, road cycling, mountain biking, backpacking, bikepacking, hiking, trail running, wedding – just kidding, I didn't wear my Houdini jacket to a wedding, but I should have brought it for the unexpected summer rain. It would have stashed perfectly in my clutch purse. I've had my Houdini for four years now and it's still an essential item everywhere I go. It's my go-to for a water resistant, lightweight jacket.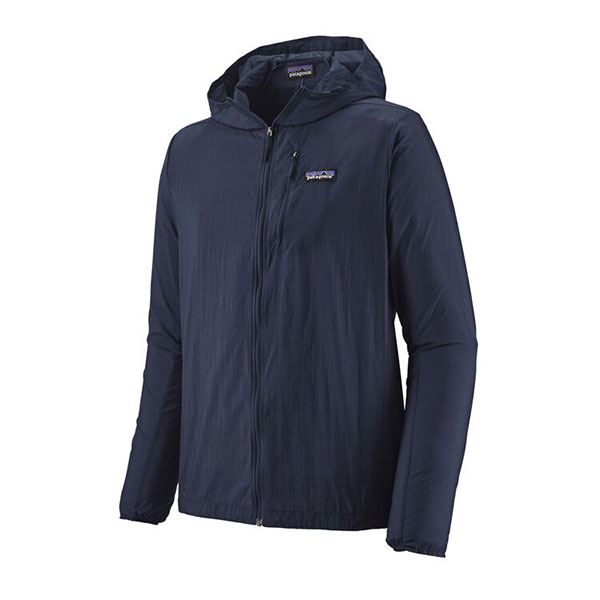 What I Can't Get Enough of
The Patagonia Houdini Jacket is so versatile, useful in nearly every outdoor activity. I also like to bring it along when I travel. It's so light and airy, but provides just the right amount of protection from windy, misty, light rainy days. I went running in it this morning and it was a typical gloomy fall day with threatening rain clouds, moderate winds, and light mist/fog. I was warm and dry under my Houdini because it keeps in a little bit of heat but is very breathable so it never condensates underneath. Plus, I love that it doesn't create any noise when I run so I can still enjoy the sounds of the birds and wind in the leaves. In terms of color, I purposely got the bright pink one because I wanted to be visible when I go running in the woods, especially in the fall when the hunters are out hunting at the same hour I'm out running!
What I'm not so crazy about
The jacket is water resistant, which is great. It's just that it uses a DWR (Durable Water Repellent) finish to make it so, meaning that it's not really that great for the environment and it doesn't stay very water resistant for long. I probably should be switching out my 4-year old Houdini for a new one if I want something a bit more water resistant, but I'm so attached to it that I can't seem to let it go. Besides, for now it's doing a great job of keep the wind and light rain out. For runs in heavier rain, I should use a waterproof running jacket.
In case you're wondering how DWR works, DWR causes the water on the surface of, say, your jacket, to bead up and then roll off quickly so that it doesn't saturate the surface and give that clammy-on-the-inside feeling. Anyway, Patagonia is working very hard and investing a lot in trying to use DWR finishes that degrade more quickly and are a bit less toxic to the environment. It's hard to find a waterproof or water resistant product that doesn't use DWR. Some companies use Outdry membrane, which doesn't rely on DWR, however, breathability may not be as great as fabrics that use a DWR, like Gore-Tex, for example. On the flip-side, Outdry membranes stay waterproof longer and doesn't require any maintenance.
The Bottom Line
Bottom line, my Houdini jacket is indispensable for all my outdoor activities, particularly for my trail running passion. I live in northern Italy not far from the Alps and the weather is usually cold, grey, and wet (sometimes snowy) for a good 8 months of the year. The Houdini holds up great in light rain and wind, and even light snow.
Features and Tech Specs
Durable water repellent (DWR) coating provides the first layer of defense against moisture
Weather-resistant and featherweight ripstop nylon blocks wind, withstands abrasion and packs down into chest pocket
Zippered chest pocket converts to stuffsack with a reinforced carabiner clip-in loop
Hood adjusts in one pull, and won't block peripheral vision
Durable half-elastic cuffs and drawcord hem seal out the elements
Reflective detail enhances visibility in low-light conditions
Slim fit with a slight drop tail for better fit during movement; accommodates a base layer or a light mid layer
1.

Patagonia Houdini Jacket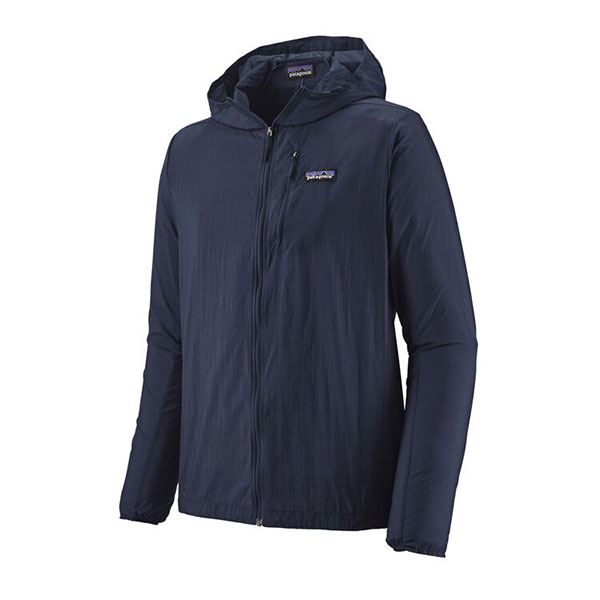 Pros
Extremely lightweight and packable
Water resistant
Wind resistant
Very versatile for all activities
Breathable