Almost 20 years ago, I did what I considered some serious hiking. I went all the way to New Zealand and all the way down to the south of the South Island to DAY hike parts of the Milford Sound (I was baby-stepping it). I was so used to sunny Southern California hiking that it never occurred to me to get waterproof hiking boots nor even a waterproof shell. Yes, that's how good the weather is in Southern California. So, there I was hiking in the beautiful Milford Sound and what started as a cloudy day turned into moderate rain. Just moderate. I returned to my slightly embarrassing graffiti art-painted camper van rental from a day of hiking, completely soaked from head to toe. The next day, still with a high chance of rain, I went on another hike but this time to study the other hikers to see what they were wearing. I was proud of my new waterproof shell concoction: a huge transparent trash bag with three holes cut open for my head and arms. I was proud of my ingenuity until I saw the other hikers with real waterproof jackets that looked functional and sturdy looking waterproof hiking boots. They all looked at me with laughter in their eyes. Lesson learned.
Fast forward 20 years and a bazillion hikes all over the world, I never go on a hike without packing a waterproof shell. But different conditions call for different shells. Yesterday, I went on my umpteenth hike with my Patagonia Torrentshell. I am 5'2'' and weigh 100 lbs. I have this shell in both the XS and XXS. I wear the XXS in a muted color around town in the spring and fall because I like the slim fit when I don't need to layer much underneath. But when I go hiking in the mountains, I take the XS so that I can layer as much as I need, which usually includes a SmartWool baselayer, a fleece, and sometimes a down jacket if there's snow at higher elevations. The weight of my fleece and down jacket varies from light to heavy depending on the season. I check the weather forecast before embarking on a hike to help me decide which gear to bring.
The Patagonia Torrentshell is a great straightforward waterproof and windproof shell that is reasonably priced, comes in tons of colors, and backed by Patagonia's awesome warranty. The tech specs are listed below, but first, allow me to share my experience and opinion regarding this shell.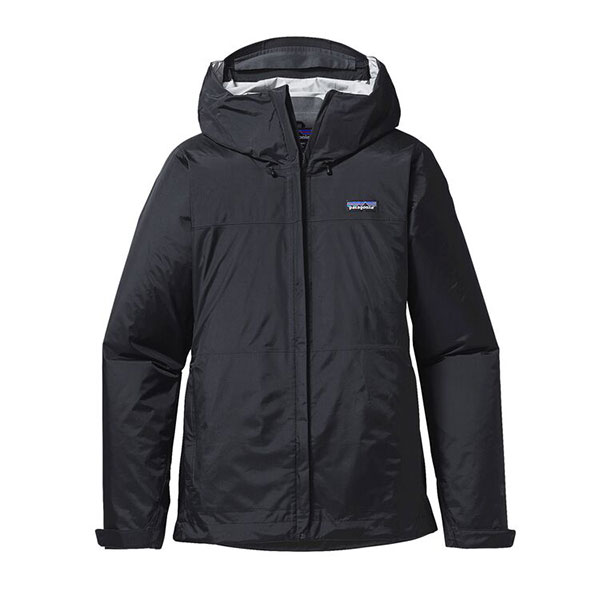 The Good
It's light, packable and very waterproof and windproof. On my hike yesterday, we climbed to an elevation of almost 3000 meters where there was plenty of snow and cold cutting winds on the north face of the ridge. The Torrentshell did a great job in not making me feel the cold wind. On other hikes when it rained, I stayed completely dry inside. I can attest that it does a fantastic job of keeping wind and rain out. When I use the shell in the city (a cold and grey European city), I like its sleek, low-profile look that doesn't make it seem like I just came down from the mountains. Plus, I stay dry without having to carry an umbrella while looking good at the same time.
The Bad
Yes, there's actually a Bad. And I'm a big fan of this shell, it's great for hiking, traveling, even wearing around town, but it's not the right jacket to wear trail running. I wore it twice on the trails in rain that turned into light rain. The first time I wore it, I swore I would never wear it again running because there is not enough breathability in the fabric and condensation builds very quickly on the inside of the jacket, just like a disappointing tent. I wore it out again recently on a run because I found it listed on Runnersworld.com as one of their top waterproof running jackets. I thought they would know better than me. Honestly, I could never recommend the Torrentshell as a great waterproof running jacket because it will cause the outer layer of whatever you're wearing under the shell to be wet from condensation. Not only that, it's quite uncomfortable for running because it's stiff, noisy, and just too heavy.
Instead, I would highly recommend the Patagonia Houdini Jacket for trail running in light rain or mist because it's water and wind resistant and very breathable. It's not going to keep you dry on runs in heavy rain, for that, there are these waterproof running jackets that we'd recommend.
The Bottom Line
That being said, the bottom line is that the Patagonia Torrentshell is a great waterproof jacket for hiking and traveling around. It packs well, is durable, and is a simple no-frills rain jacket that looks good and comes in all the colors you can possibly imagine. Plus, at such a fair price, let's not forget the ironclad guarantee you get with every Patagonia purchase.
Features and Tech Specs
5-layer H2No Performance Standard waterproof/breathable shell is made with 100% recycled nylon
2-way-adjustable hood with laminated visor rolls down and stows with a simplified cord-and-hook design
Microfleece-lined neck provides soft comfort against your skin
Center-front zipper features a minimal-welt exterior, interior storm flaps and a zipper-garage chin guard
2 zippered handwarmer pockets and venting pit zips have welted exterior storm flaps and durable water repellent (DWR) treated zippers
Self-fabric hook-and-loop cuff closures and adjustable drawcord hem help seal out weather
Jacket stows into handwarmer pocket with carabiner clip-in loop
Nylon fabric is bluesign™ approved
1.

Patagonia Torrentshell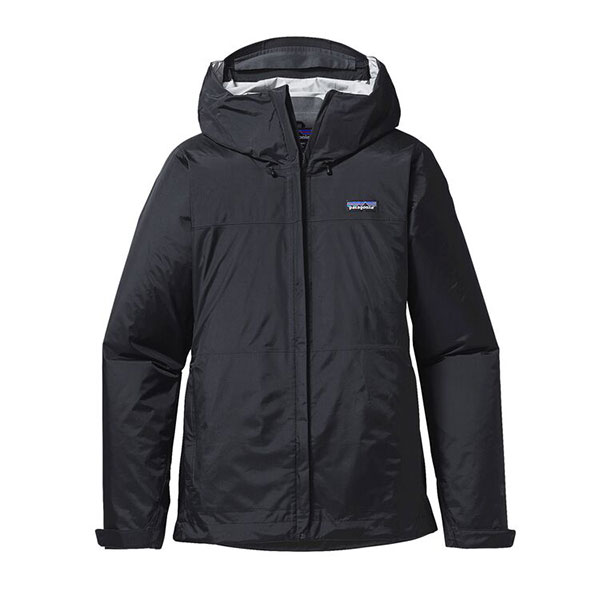 Pros
Waterproof and windproof
Light and packable
Zippered handwarmer pockets
Zippered pit vents
Nylon fabric is bluesign approved and contains recycled material
Microfleece lined neck for comfort
Stowable hood
Cons
Not as breathable for high-intensity sports
Not as soft
Not as durable
Not built for severe weather conditions