Coke or Pepsi? Milk chocolate or dark chocolate? Drip coffee or espresso? What am I getting at (other than that I'm probably deprived)? That all these healthy foodie vices are just preferences, including that of hiking with trail running shoes or hiking boots.
However, I'm here to suggest a little humble tip based on a very recent hike I went on in the nearby Alps. I went hiking in my trusty Salomon XA Pro 3D GTX trail runners, which is listed in our top waterproof trail running shoes for men. I almost always go hiking in trail running shoes. I was one of those hikers who are too cool for school. On a hike in Patagonia, I met a serious avid hiker in her 60s who looked at my Salomon XA Pro 3D GTX shoes, rolled her eyes, and called them "high-tech sneakers." I deserved it. I made her and another hiker wait for me on the other side of an ankle-deep ice-cold stream as I contemplated ways to cross it without letting water enter my shoes at the ankles.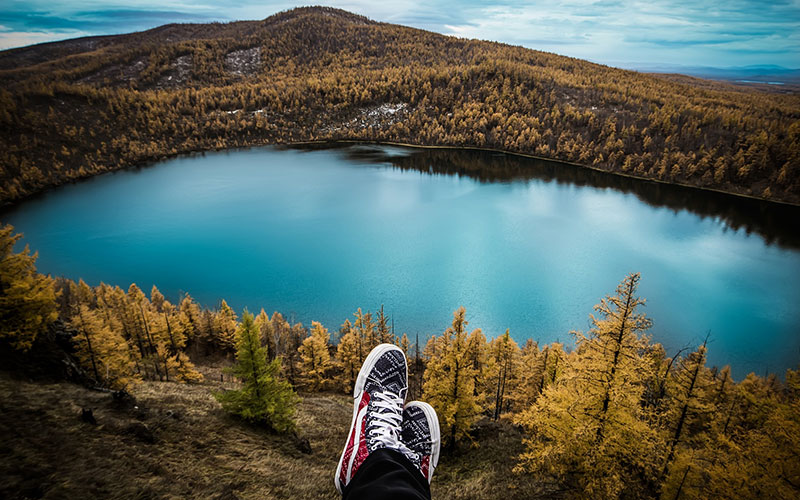 Back to this recent autumn hike, it had just rained so at higher elevations, there were maybe 25 cm of fresh snow. At lower elevations, I hiked through mud and slick rocks, which my Salomon's handled fairly well. Slick ice, however, caused moments of acute panic. The outsoles of the Salomon XA Pro 3D GTX aren't as grippy on ice resulting in that occasional tiny slip. On the plus side, my feet were light and I enjoyed a lot of freedom of motion in my ankles and foot. I prefer to hike in trail running shoes over hiking boots primarily for this reason: I like having a lot of range of motion everywhere. I also like the feeling of having very little weight on my feet. I also never quite understood the need for the ankle support that hiking boots boast. I've hiked 40 km a day and climbed in thousands of meters is elevation gain with a heavy pack and didn't feel any lack of support from trail runners. I always considered hiking boots additional weight. Therefore, I used to turn up my nose to the idea of wearing hiking boots on a hike, I considered it old school.
But now I'm starting to rethink this fad. I think hiking in trail running shoes is great for summer hikes and on trails I know I won't be crossing running streams that could be ankle deep. They're also great for easy hikes and trials I am already really familiar with. But when it's not summertime anymore and there's a chance that I'll encounter snow and ice, I'd much prefer hiking in hiking boots. When I was hiking over snow and slush in my trail running shoes, I kicked up snow, slush and water into my ankles and several times, snow got into my shoes. I was not only envying the other hikers with their hiking boots but I was a bit embarrassed when they looked at my shoes. Let's be honest, we all look at everybody's shoes and gear for a quick evaluation of how outdoorsy they are. I felt like a rookie.
Therefore, although it's all a matter of preference to choose trail runners over hiking boots or vice versa, I highly recommend hiking boots for autumn, winter, and spring hiking when there's a likelihood of snow and slush. In the summer, you'll enjoy the lightness and breathability trail running shoes offer over hiking shoes, but I recommend hiking with a waterproof pair if you know you're going to cross streams. When I'm hiking on trails I am certain are dry, I love wearing superlight trail running shoes for the agile and responsive feel.
The idea that one pair does it all does not apply to hiking all year long. Although it's enjoyable to wear light trail running shoes to go hiking in the summer, I'd suggest hiking boots for all other seasons if there's a chance you'll hike on snow and ice.