After a long day of backpacking, nothing beats setting up an easy-setup tent that was light on your back but will give you the perfect amount of space and comfort for a well-earned cozy and deep sleep. Fortunately, there are many options for ultralight backpacking tents to choose from so you can be sure you'll find the perfect one. Main parameters to consider include: budget, weight, durability, capacity, and convenience, such as setup and vestibules. Not all backpackers are equal. Some want the absolute ultra-lightest backpacking tents on the market regardless of price, period. While others can compromise on weight for a tent that's still light but not as expensive. So, when searching for a tent, only you know where your priorities are. And we've done a ton of research to help you get a head start on your search for the best ultralight backpacking tents that matches your criteria. We've ranked our favorites based on weight, price, and comfort, which includes capacity and convenience, for a maximum of two persons.
The best ultralight backpacking tents are:
Lunar Duo Outfitter

Why we love it?
Offers the most interior room of any tent in its class and weight range

Secure, you can batten down the hatches for a comfortable nights sleep

The best ultralight backpacking tents on the market

3

2.1K

16

20
Lunar Duo Outfitter

Hornet Elite

Duplex by Zpacks

Big Agnese Fly Creek HV UL2

Big Agnese Tiger Wall UL2

Big Agnese Tiger Wall 2 Carbon

NEMO Spike 2P

MSR Freelite 2

Awards
Price

170.00$

View On Amazon

499.95$

View On Amazon

599$

View On Amazon

349.00$

View On Amazon

395.99$

View On Amazon

999.95$

View On Amazon

249.95$

View On REI

489.95$

View On Amazon
Overall Rating

10

9.6

8.6

8.2

7.6

6.8

6

5.8

Pros

Spacious, Secure, Ultralight

Weight, Size

Good Price, Long Durability, Big Interior Space

Great Design, Ultralight Comfort, Weatherproof

Ultralight pack, Floor Area, Vestibule Area

Entry Door, Comfort, Floor Area

Design Very good, Size and Weight, 8 Stakes included

Ultralight, Easton Syclone Poles, Ventilation, Easy Access

Cons

Price

Price

Medium quality material

Entry

Entry door

Price

Capacity

Area

Bottom Line
Weight

10

10

8

8

8

7

6

6

Price

10

10

9

8

7

7

6

5

Convenience

10

9

9

9

8

6

6

6

Durability

10

9

9

8

7

7

6

6

Interior Space

10

10

8

8

8

7

6

6
If you're looking for an ultralight backpacking tent that emphasizes the ultralight aspect and you have a larger budget, then we'd recommend the Hornet Elite by NEMO. This tent packs super light at only 779 grams or 1 lb 11 ounces with a floor space of 2.5 m2 or 27.3 ft2. Comfort aspects include double doors and vestibules for entry/exit ease and plenty of room for your gear. The material for the fly is durable and can be clipped down quickly under windy conditions. The tent also boasts double wall construction for extra durability to withstand wind and minimize condensation. The setup is extremely easy at under 5 minutes in any condition with the single pole system that provides both rigidity and volume. We also love NEMO's Hornet Elite because it packs down to the size of a coconut without sacrificing durability with the material and poles. Two adults will fit snugly in this tent because of its smaller floor area and with the slanted walls, taller folks will find the head space a tight squeeze when both are sitting up at the same time. In any case, for those who prefer easy setup and to shave off every possible
Pros
Good Price
Long Durability
Big Interior Space
Now, if the most important aspect of an ultralight backpacking tent is the weight, then meet The Duplex by Zpacks. The Duplex weighs in at a total of just 550 grams, or 1 lb 2 oz. Insanely light, and fits two people. Stakes and poles aren't included in the weight, however. The Duplex provides a decent amount of interior space and double vestibules for your stuff. Floor area is 2.3 m x 1.14 m, therefore, depending on the width of your sleeping pads, could fit two adults snugly. The material for the fly is ridiculously light but still waterproof and durable. Plus, it won't sag when it rains. It has single-construction walls, so you'll have to look out for condensation when it does rain. Another downside is that setup isn't the absolute easiest and will require some creativity when setting up on rocky terrain. Given some minor cons, overall, The ZPacks Duplex would be the best ultralight backpacking tent for those who want the absolute lightest tent they have to carry and don't mind the cost nor the slightly longer setup time.
4.

Big Agnese Fly Creek HV UL2
Pros
Great Design
Ultralight Comfort
Weatherproof
A great way to take the middle path when searching for your ultralight backpacking tent is to go with the Big Agnese Fly Creek HV UL2. It is lightweight, not terribly expensive, fairly durable, and can still fit two people, though snugly. The Big Agnes Fly Creek HV UL2 tent weighs just under 2 lbs at 1 lb 15 oz or 879 grams. The floor area spans 28 ft2 with a head height of 40 inches or 102 cm, which means you'll still be able to sit up and enjoy a game of cards. It has a single door and vestibule, so you can enter the tent dry and have room to store your gear. The tent is easy to pitch with its Velcro tabs that attach the fly to the pole and the pre-cut guy lines and tensioners that are attached to the fly in addition to the ultralight plastic clips that help attach the tent body to the pole frame. The material is fairly durable but still requires some attention as with all nylon mesh. Therefore, if you want a tent that's under 2 pounds but don't want to sacrifice too much on the volume and setup ease then the Big Agnese Fly Creek HV UL2 could be your best bet without breaking the bank.
5.

Big Agnese Tiger Wall UL2
Pros
Ultralight pack
Floor Area
Vestibule Area
A really close runner up to the Big Agnese Fly Creek HV UL2 is the Big Agnese Tiger Wall UL2. It's only a tiny bit more expensive but weighs slightly more at 992 grams or 2 lbs 3 oz. What we like about it is the double doors and vestibule, though the head height is 39 inches or 99 cm. The floor area is still 28 ft2 so two adults fit snugly. With the single-pole architecture, Velcro tabs that connect the fly to the pole along with the pre-cut guy lines and tensioners, you can be sure to set up this tent quickly under any condition. However, like most semi-freestanding designs, it will be a bit tricky to set up on rocky terrain but with a little creativity, setup is fast thanks to the hub pole design. In addition, plenty of pockets and structured foot-end corners give you tons of storage space for all your belongings. We really like this tent because of the double doors and vestibule that weren't compromised to keep this tent ultralight. It's not as light as some of the other ultralight backing tents, but has great features and a fair price that could make this tent a favorite for many.
6.

Big Agnese Tiger Wall 2 Carbon
Pros
Entry Door
Comfort
Floor Area
Okay, now if you wanted to just go all out and have the comfort of double doors and vestibules and wanted to still be way under 2 lbs and have a reasonable amount of floor space and head height, then you have to meet the Big Agnese Tiger Wall 2 Carbon tent. So, you get to have your cake and eat it, too, if you have a very large budget, of course. This tent seems to have it all, except that it's really expensive. You would also have to be super careful when setting up and handling it because of its incredibly light structure and material. Probably don't want to let your cat sleep in it with you. The specs include a weight of 624 grams or 1 lb 6 oz, a floor area of 27 ft2 or about 2.5 m2, and a head height of 39 inches. The fly is fully waterproof and there is the Low Vent feature on the vestibule doors that increases airflow. The Big Agnese Tiger Wall 2 Carbon tent also has tons of storage space within the tent to store all your gear, pack, and snacks. The hubbed, single-pole architecture and plastic clips for the fly make the setup really quick and easy. The superlight aluminum stakes are included in the weight. Overall, we are pretty impressed with this tent even if the price could deter many backpackers. It's quite a cream-of-the crop of ultralight backpacking tents if your budget permits you and you don't bring your cats along.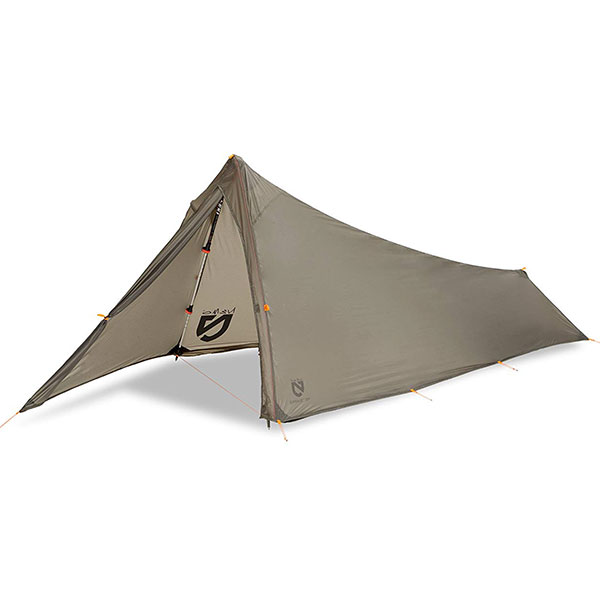 Pros
Design Very good
Size and Weight
8 Stakes included
As a contrast to the Big Agnese Tiger Wall 2 Carbon tent, the NEMO Spike 2P is still ultralight at 1 lb 10 oz or 737 grams, but has a partial floor and pitches with your trekking poles because poles aren't included. It's completely non-freestanding but has a floor area of 41 ft2 or 3.8 m2 and a peak height of 47 inches or 119 cm. So, large volume, but no real floor and with a single entry. The price is also much less than most of the Big Agnese ultralight tents. So, bottom line, with the NEMO Spike 2P tent, you get a lot of volume with very little weight at a decent price. It's perfect for the minimalist backpacker.
Pros
Ultralight
Easton Syclone Poles
Ventilation
Easy Access
How cool would it be to have an ultralight backpacking tent that uses poles constructed of aerospace composite materials? Well, the MSR Freelite 2 tent actually has poles made of aerospace composite materials that are ultralight and resist breaking in fierce winds. The entire tent weighs 2 lbs 15 oz or a little over 1300 grams and provides plenty of space with a floor area of 29 ft2 or 2.7 m2 and a head height of 36 inches or 91.4 cm. The MSR Freelite 2 also has 2 large doors for easy entry and tons of vestibule space for all your gear. There's a micromesh canopy and double wall construction that minimizes condensation and a rainfly that is completely waterproof and windproof so you can stay dry and cozy under bad weather. It's semi-freestanding, as nearly all ultralight tents, but the single-pole makes setup easy. The price is on the steeper side, but if your budget allows for it and you want a tent that's ultralight, but with the comforts of plenty of floor space and double doors and vestibules, the MSR Freelite 2 could be your perfect ultralight backpacking tent.
Criteria for Our Ultralight Backpacking Tents Considerations
Weight
If you're a backpacker seeking an ultralight backpacking tents, we know what you mean when you want something really light. That's probably the first thing you check out when you look at tent specifications. With hiking, the lighter your backpack, the better. This way, you can cover more ground and have more time to enjoy the beautiful scenery surrounding you without being distracted by the weight of your pack.
So, counting every ounce can make a big difference and since tent weight can range considerably, minimizing tent weight as much as possible makes a whole lot of sense. We bet you probably already have a weight limit in mind, too. So we kept our eyes out for only the lightest tents out there and, with the exception of our favorite number one tent, all tents we chose weigh less than 3 lbs. Anything less than a pound would be generally considered a shelter such as a tarp, for example. Our picks are mostly semi-freestanding with space enough for two adults and their gear, so enough structure and space but still really light.
Price
Similar to the huge range of tent weight you can find on the market, the price can range just as much, if not greater. Some backpackers prioritize less weight over cost, while others prefer to spend a little less and maybe carry a bit more. It all depends on preference, use, budget, and necessity. Lighter tents are usually made with costlier material such as carbon poles instead of aluminum poles. Furthermore, tents made with higher quality materials and that are backed by a solid warranty will certainly cost more. Keep in mind, however, that you'll likely get a lot of years out of these tents in addition to the satisfaction you'll feel when you've quickly set up your tent and are warm and cozy inside while it downpours outside. So we picked tents with a price range that could suit a variety of budgets, from remarkably low to going all out, while still maintaining our priorities on weight, comfort, and setup ease.
Volume/Interior Space
Some backpackers need more space inside their tent, while others are fine with the minimum. More space usually implies more material and, hence, more weight. Some tents offer plenty of interior space with little extra weight at the cost of costly material, so there will always be some type of tradeoff.
The Ultralight backpacking tents that we've chosen to help get you started are all 2-person tents that will fit 2 people, their sleeping pads, and their gear in the vestibules. Some tents boast extra room around the feet for usable storage space for things like bulky camera cases or things stuffed in a stuff sack. Peak height was something we looked at as well for the taller backpackers who might want to sit up and enjoy a game of cards or read a book.
Based on the size of your sleeping pad (if you're in two), your preferences for more floor space, and perhaps how tall you are, you can determine if space is a parameter to prioritize and determine the best ultralight backpacking tents for you.
Convenience
We like tents that offer double doors and double vestibules because it usually implies more storage space for gear and packs, which mean more floor space for you to enjoy. Double doors also make entry and exit more comfortable when there are two of you. This doesn't mean that we didn't include tents with single doors, however. Ultralight backpacking tents with single doors may be lighter and more practical especially for solo backpackers who opt for a 2-person tent. Easy setup is also something we considered as part of convenience because when it's pouring, we know how wonderful it is set up a tent quickly so you can get out of the rain and into your protective and dry space.
Durability
Often, ultralight backpacking tents are ultralight because they're made with thinner and, therefore, more delicate material. This means that you'll have to take extra care when handling your tent to keep your tent lasting for countless backpacking trips. Some backpackers know they're tough on their gear, tent included, and prefer something they don't have to worry about too much and will opt for tents made of materials that are more heavy duty, and therefore, also slightly heavier.
But nowadays, tent materials have benefitted from advancements in technology, rendering them quite durable and still lightweight, and at a higher price. Note that most tents don't include the footprint, which is a covering that goes beneath the tent and is made of a more durable material that helps to protect the bottom of your tent from any damage that could be caused by the rough ground and rocks.
The footprint also adds a waterproof layer that can keep water from seeping into the tent from the ground. Many ultralight backpackers skip the footprint, but keep in mind that it can be useful for tents that use lightweight material in case of rocky sites.